Welcome to Two Guns Leather Co. LLC
We are the co-owners, Osceola and Genevieve Red Shirt. We are a Native American owned company based in Springfield, VA. We specialize in handmade Native American leather art. Every leather product we produce is handmade by us from start to finish using the finest U.S. sourced leather.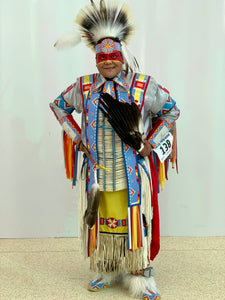 About US
We have been around the powwow world for many years. In fact, that's how Two Guns Leather Co. got started. Osceola was inspired by his Uncle Darrell Brushbreaker Sr. to begin learning leather tooling around 1991. When Osceola began traveling to powwows as an adult he made smaller tooled leather items to sell to various vendors. In time he began doing custom belt orders for other dancers. All that eventually lead to the creation of Two Guns Leather Co LLC in 2017. His wife Genevieve has been tooling leather since 2016 and has become an outstanding leathersmith.